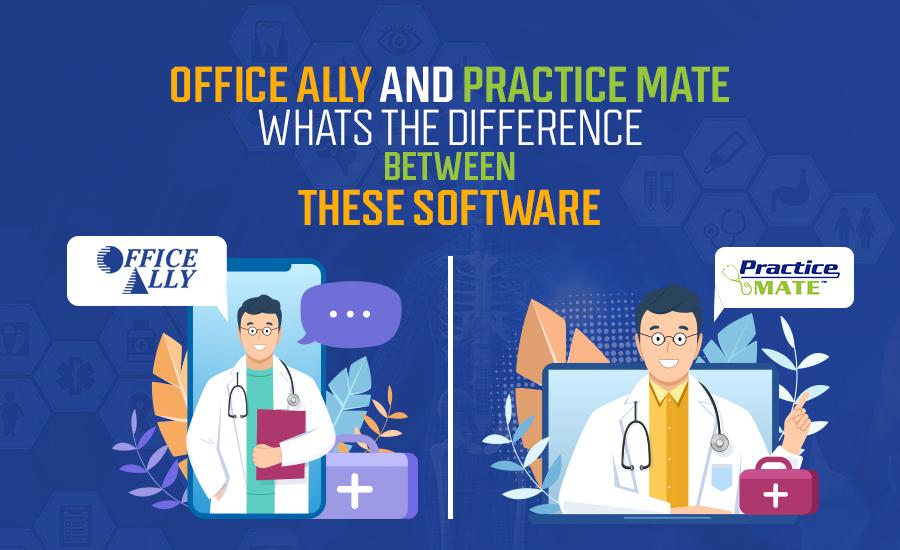 What are Medical Softwares
Both Practice Mate and Office Ally are medical software solutions but have different roles they play within your practice. A medical software solution is any software that automates an aspect of running a medical practice and helps you simplify your day-to-day activities at your medical practice. With these two software used simultaneously, you can essentially take care of most if not all aspects of your medical practice. If you want to know about what differences this software has and how each can best help your practice then keep reading!
What does Office Ally do
What Office Ally does is basically help you file claims and get reimbursed from insurance companies more efficiently. This software serves as a clearinghouse system for your medical practice and helps you file claims quickly and correctly. If you previously (before employing the software) had issues with having your claims approved, then Office Ally corrects this in no time at all because the claims filed with this software are approved much more quickly and have a very low chance of being rejected! Let's explore some other features that you will find in Office Ally and not necessarily in Practice Mate.
Customer Support for your Help
With Office Ally, you have access to a great customer support portal that connects you with a customer support representative immediately so that you can easily mitigate whatever issue you were having with the software with no further problems at all.
Check Patient Eligibility Automatically
The next feature in Office Ally which is amazing is the feature that automatically checks for patient eligibility so that you can check whether or not a patient is even eligible for insurance before you accept their case. This helps you out a lot since you will no longer accept patients who are not eligible for insurance and thus cause an issue for you later on when you file claims. This helps you avoid inconvenience from the get-go.
What does Practice Mate do
As the name somewhat suggests Practice Mate is a practice management software that helps you manage the various day-to-day activities that are involved in running your practice. From scheduling patient appointments to keeping track of your billing; the software takes care of things normally an assistant would! We will now tell you about a few of the best features in Practice Mate.
Create Appointments and Manage your Schedule
With Practice Mate you can easily manage your own schedule and create a schedule that will help you in maximizing the number of patients you see in a day. What this means is that you can essentially grow your practice because you are now able to see more patients in a day than ever before thanks to Practice Mate.
Patient Portal to Ease your Administrative Burden
Another great feature Practice Mate gives you access to is the patient portal which essentially helps you reduce administrative duties for yourself and your staff. The portal allows patients to access a login page that allows them to be able to look at their billing, schedule their appointments as well as keep track of future appointments. All of this helps you focus on other more important tasks rather than be bogged down in sorting out scheduling conflicts and whatnot.
Customizable Templates for your Convenience
With Practice Mate you can choose the template you want to employ in your medical practice which is essentially a big help since the template is what you will be interacting with multiple times daily. Apart from choosing the template you can even go further and make customizations to it so that you can make it even better suited to yourself and your needs. This will help you become more efficient and manage things much more quickly than ever before!
What Software Should you Invest in
Both Practice Mate and Office Ally have their pros and cons. This software helps you with different aspects of your practice and combined can essentially take care of everything! However, if you are wondering which one of these you should invest in then that is your own decision and we can only advise on how you canconcluden for yourself.
The first thing you should do is make a list of all the features you would ideally desire from a medical software and then compare that list with the list of features available in both Practice Mate and Office Ally. This helps you figure out which software you need more! Hopefully, whether you choose, Practice Mate or Office Ally; it will be the best decision for you and your practice!
Also read about:
How To Easily Get Your First Credit Card
The Best Instagram Marketing Tips You Should Not Miss
Hand sanitizers Promoting safe use by children