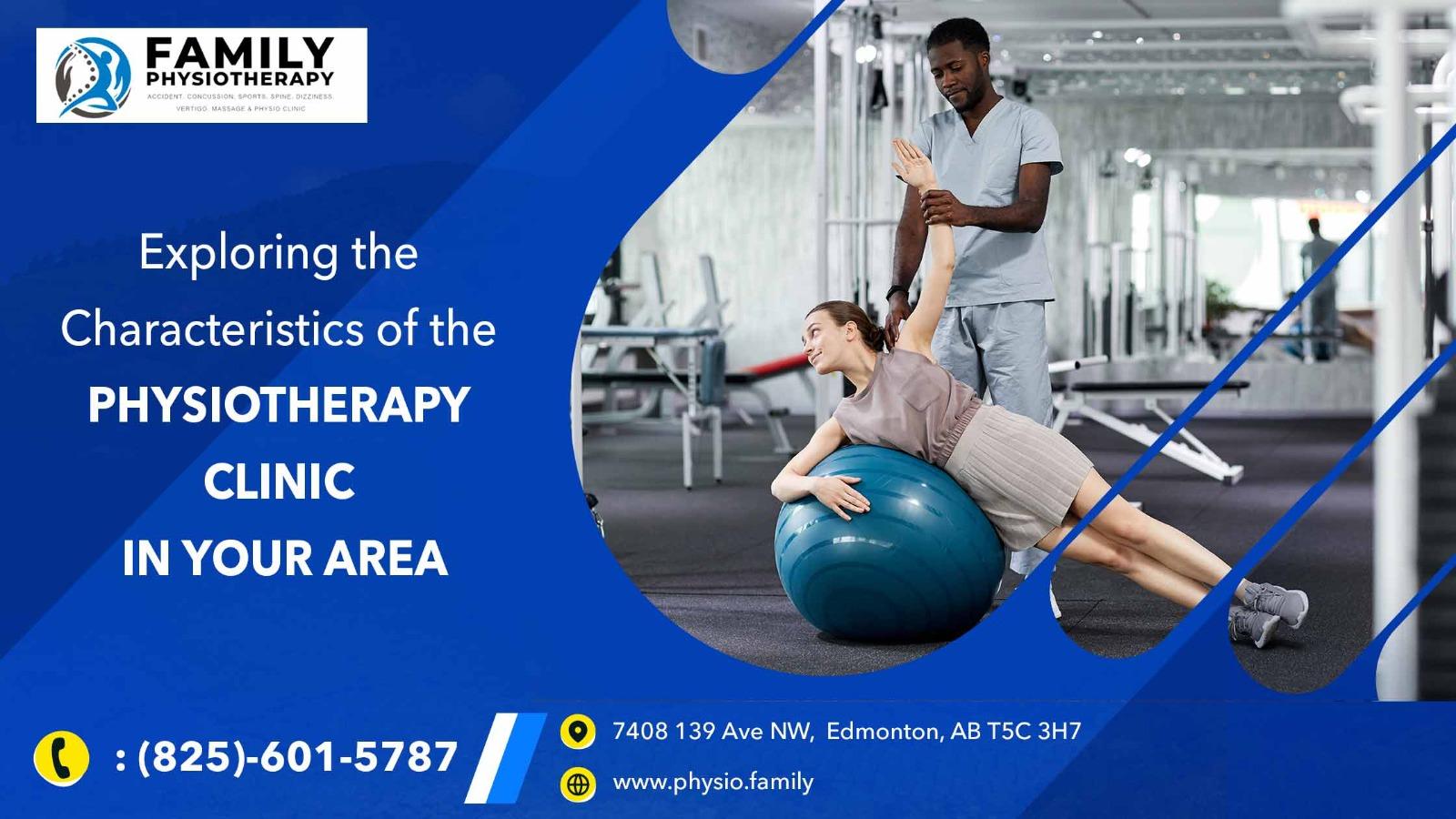 Physiotherapy, or physical therapy, is significant in promoting, maintaining, and restoring physical health and wellness. As an indispensable part of overall health management, it caters to people of all ages who have illnesses, medical conditions, or injuries that limit their regular ability to move and function. As such, choosing the right physiotherapy clinic near you can be a game-changer in your recovery journey or ongoing physical health management.
In Edmonton, where various clinics offer physiotherapy services, it's crucial to identify a set of key characteristics that exemplify the standards of care. Family Physiotherapy in Edmonton demonstrates these characteristics, providing a blueprint for what to look for in a physiotherapy clinic.
Integrated Treatment Modalities
One significant feature of an exceptional physiotherapy clinic is the array of treatment modalities available. Family Physiotherapy in Edmonton utilizes a wide range of evidence-based techniques to provide comprehensive care to its clients. These techniques include massage therapy, concussion physiotherapy, custom orthotics, radial shockwave therapy, the Graston technique, and a specialized whiplash response regimen.
Furthermore, they offer manual lymphatic drainage therapy, trigger point release therapy, acupuncture, and dry needling, to address a diverse range of patient needs. Athletic Taping, myofascial release, pre-surgical physiotherapy, post-surgery rehabilitation, and vestibular rehabilitation are also part of their comprehensive repertoire. By providing an array of techniques, the clinic ensures a tailored approach for every patient, thus promoting efficient recovery and rehabilitation.
Specialized Care for Various Injuries
A quality physiotherapy clinic should also be adept at dealing with a wide range of injuries and health conditions. For example, Family Physiotherapy provides care for sports injuries, chronic pain, pain in various parts of the body, work-related injuries, TMJ dysfunction, and motor vehicle accident injuries. Their team is well-equipped to deal with the complex nature of these injuries, working meticulously to restore function and minimize patient discomfort.
Moreover, the clinic demonstrates its commitment to the community by servicing those under the Workers' Compensation Board. By providing specialized care for various injuries and conditions, the clinic shows its capability to cater to the diverse needs of its patients.
Professionalism and Technical Expertise
Professionalism and technical expertise are integral aspects of an outstanding physiotherapy clinic. Family Physiotherapy in Edmonton exemplifies these traits. The clinic's staff are experienced, knowledgeable, and skilled in their field, demonstrating professionalism in patient interactions. Their use of technical terms reflects their expertise.
Moreover, the professional environment doesn't compromise the warmth and friendliness of the clinic, as these attributes help to foster a conducive healing atmosphere, making the patient feel comfortable and understood.
Personalized Treatment Plans
In a physiotherapy clinic, no two treatment plans are the same. Instead, the clinic should demonstrate a commitment to developing personalized treatment strategies tailored to each patient's specific needs. Family Physiotherapy in Edmonton adheres to this philosophy by customizing each patient's treatment plan.
The treatment begins with a thorough assessment, followed by creating a personalized plan that considers the patient's condition, lifestyle, and recovery goals. This meticulous process ensures that every individual receives the best care possible, designed to help them return to daily activities as swiftly and efficiently as possible.
Holistic Approach to Treatment
An exceptional physiotherapy clinic considers the physical aspect of the patient's condition and the psychological and social factors that could impact recovery. Family Physiotherapy in Edmonton applies a holistic approach to their treatment plans. They understand that mental health, stress levels, and support systems can significantly affect a patient's recovery journey.
This holistic approach fosters better patient outcomes and facilitates a more profound level of recovery. It shows the clinic's recognition of the patient as a whole person rather than focusing solely on the physical symptoms or injury at hand.
A Team Approach
A distinguishing feature of a standout physiotherapy clinic is its team approach to patient care. Family Physiotherapy in Edmonton employs this methodology, fostering close collaboration among professionals. This collaboration allows for sharing expertise and knowledge, ensuring that the patient benefits from a well-rounded and comprehensive treatment plan.
Accessibility and Convenience
Accessibility and convenience are key factors that significantly influence the choice of a physiotherapy clinic. An accessible clinic saves patients time and stress, especially when regular sessions are required. This aspect is particularly relevant for those with mobility issues or pain, making travel difficult.
Family Physiotherapy in Edmonton is located in an area easily reachable via various modes of transport. They understand that for some patients, the journey to the clinic can be as crucial as the treatment itself, and thus they aim to make this as comfortable and effortless as possible.
Family Physiotherapy offers convenient operating hours and ease of scheduling appointments. Accommodating the different schedules of their diverse clientele and providing straightforward appointment booking methods, including telephone and online options, allowing patients to choose the most convenient way. This flexibility ensures patients can access care at a time that suits them best without disrupting their routines. It's crucial, especially for those balancing treatment with work, family, or other responsibilities.
The convenience of a physiotherapy clinic is about more than just its physical location or operational hours. It also includes the clinic's ability to deal with insurance companies, handle paperwork, and offer post-treatment care and exercise guidance. Family Physiotherapy is known for its excellent administrative service, which makes these potentially complicated processes smooth and hassle-free for patients.
Overall, accessibility and convenience can significantly enhance the patient experience. In this regard, Family Physiotherapy Edmonton demonstrates a deep understanding of its client's needs, going above and beyond to make their journey to recovery as seamless and comfortable as possible.
Conclusion
When searching for a Physiotherapy clinic near me," consider the range of treatment modalities, the variety of injuries and conditions treated, the professionalism and technical expertise of the staff, and the clinic's accessibility for choosing the right one for you. In Edmonton, Family Physiotherapy exemplifies these characteristics, making it a reliable choice for physiotherapy.
Also read about:
The Significance of a Physiotherapist in Enhancing Patient Mobility and Recovery
The Role of Physiotherapy in Rehabilitation and Pain Management
The Farber Consulting Group Inc Bridging the Gap with Custom Software Development and Cloud Migration for MS Access